About New Life Chiropractic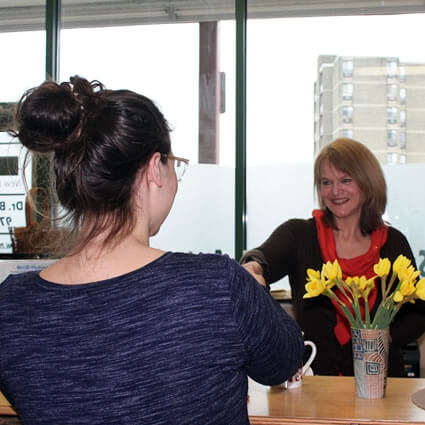 After working in Boston and the North Shore areas Dr. Beth Greene opened New Life Chiropractic in Plaistow, New Hampshire in 2003. After nine years in Plaistow, she moved her office to Haverhill. Dr. Beth decided to move to our city to be more accessible to our patients. Dr. Beth is passionate about inspiring patients of all ages to be healthier.
The New Life Chiropractic Mission
Our mission is to
provide gentle chiropractic care
and a comfortable nurturing environment. We strive to offer hope, restore health and invoke inspiration. Our purpose is to help and educate as many families as possible to become active participants in their health and well-being while providing superior quality service.
Providing Honest Care
We are very honest and caring. While we serve as guides for our patients, we don't force people to do things. We never use scare tactics to compel people to get care. Instead, we'll let you know your options and then you can choose from there.
Heal in Our Uplifting Environment
When you're in pain you want to feel comforted and surrounded by caring people. That's what you'll experience when you come in for care at our chiropractic office. Our practice is very friendly, uplifting, and even joyous. Here, you will be listened to, affirmed, and cared for.
MEET DR. BETH
Some Patient Success Stories
In her years of practice, Dr. Beth has gotten remarkable results for her patients. Here are a few examples:
From wheelchair to walking
A man came into the practice in a wheelchair. After a few weeks of care, he was up and walking around.
Addressing more than one condition
A woman came in with upper back pain. She also mentioned that she had migraine headaches and chronic sinusitis. Over several months of care, this patient didn't have to take antibiotics in the winter and she was not getting chronic sinusitis. According to Dr. Beth, these types of stories happen a lot. Somebody may come in with the standard neck pain and after regular care, say that they haven't had a migraine headache in six months.
She finds it particularly fulfilling when a light bulb goes off for patients and they recognize that the body can heal itself.
Book an Appointment
Contact our chiropractic office today to schedule an appointment. We accept insurance.
---
About New Life Chiropractic | (978) 374-1084