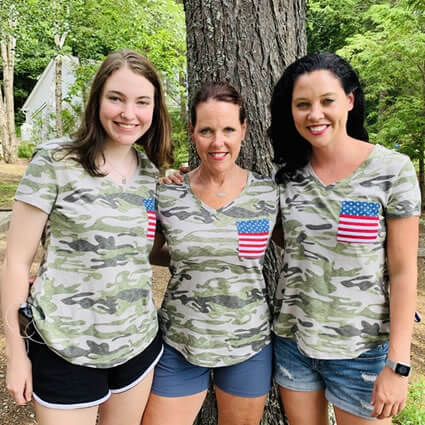 New Life Chiropractic Reviews
What Our Haverhill Patients Say
At New Life Chiropractic we love when patients share with us their feedback and comments after chiropractic care. Please read our patient testimonials below to see what other people have achieved through their tailored treatment plans with us.
Share your stories too! Click here to send us your feedback so that we can help to spread the word about the benefits of natural New Life Chiropractic care.
For more information, or to schedule an appointment contact us today.
---
Immediate Reduction in Pain
I'm a (soon to be) 60 year old male. In fairly good condition. Eat healthy, exercise regularly. (However, at 60, there are a lot of miles on the old chassis.) I played tennis for about 2 hours one weekend in July. I began suffering from acute neck pain. When there was no sign of improvement after about 3 weeks, I made an appointment to see Dr. Beth Greene at New Life Chiropractic. After my evaluation, Dr. Greene's recommendation was to begin with an aggressive program of 3 visits per week. The reasoning was twofold: 1.) to provide immediate relief from the pain I was experiencing and 2.) to correct the issues affecting me that were most likely the result of years of developed bad habits and neglect. (We'll get to that later.)
The results after 1 week were most welcomed! I began to feel an immediate reduction in pain, and, just as important, an increase in the range of motion in all directions. This has allowed me to work, sleep and function with fewer restrictions. After 2 weeks I really knew I was on the path to better health. How? I wasn't thinking about it anymore.
I am no stranger to chiropractic care. In my 30s and 40s I was very active both playing and coaching a number of sports. I found that my spinal "framework" required preventative maintenance on a regular basis. Failure to do so would result in a tweaked back/neck and spending a week in bed, taking a combo muscle relaxant/pain med to recover. So, I was a regular at the chiropractor's office. 5 years ago I suffered a severe knee injury. After a year and a half of rehab, I've found that my days as a weekend warrior are over. I play golf, tennis, walk, mow the lawn, etc. I had stopped my routine adjustments thinking my reduced level of activity would no longer require ongoing chiropractic care. Wrong!
Dr. Greene has been successful from an adjustment/alignment perspective and without her help; I'd still be in pain without an end in sight. She also discovered my spine was out of alignment and has incorporated that adjustment into our regular visits, which by the way, are now once a week. One of the real long term benefits from spending time with her is talking about my lifestyle. What I do/don't do on a daily basis that affects the way my body behaves and reacts to change. She has helped me understand the need and how to stretch and exercise properly. And when. Remember the comment I made about "years of developed bad habits and neglect"? I work out of my house, at a desk for 8-10 hours per day. I rarely take breaks. Have been for the past 8 years or so. She pointed out the need to get out of my chair and move around. Even if it means just walking to the mailbox. As Dr. Greene likes to say, "Movement is Life"!
-Anonymous
Golf Alert
Here's the kicker. My golf game has gone steadily downhill for years. Especially off the tee. Same guy, same clubs, the same courses. Can't understand why. Then one day I watched in slow motion the swing of a young golfer named Rory McIlroy. He kept his head down until his right shoulder passed under his chin, just like we've all been taught. When I tried to recreate that swing, I couldn't. My neck and spine were so constricted that as I swung, my head lifted, I lost my shoulder turn and I lost sight of the ball.
Since visiting regularly with Dr. Greene, I'm recovering my range of motion and I am seeing a steady increase in accuracy and distance. I have a feeling that this will continue until I can once again join the esteemed ranks of the sandbaggers. If this is too much golf jargon for you, here's the point: The human body is asked to do things it wasn't designed to do. Swinging a tennis racket or golf club. Sitting in a chair for hours.
Chiropractic care is essential to correcting the spinal issues we create for ourselves. However, it must be combined with a complete program to maintain an active lifestyle. Understanding this is the key to improving one's overall health. Dr. Greene understands this and is an expert in bringing the practical application of chiropractic care to a holistic program of personal wellness. She gets it. I am a living, golfing, working (sitting) example of that.
-M. Ota – Salem, NH
Grateful
I am so grateful to my chiropractor, Dr. Greene, for using the Webster Technique to help the progress of my pregnancy. For most of my pregnancy (up until 35 weeks) our baby was breeched. Starting at around 33 weeks my chiropractor started using this method, in addition to regular adjustments, and at my latest ultrasound we found out that she is no longer breeched. We are very grateful that this method has helped in such an astonishing way and now I can try to have a natural birth and avoid a cesarean section.
-Amy- Lowell, MA
Neck and Headache Relief
I went to New Life Chiropractic as I was suffering with a stiff neck, headaches and migraines. After 6 months of care, I am much improved! I have better range of motion and my regular headaches are gone? My migraines are down from 2 per week to 2 per month. The dread of waking each day to some sort of headache is gone. I feel healthier both physically and emotionally.
-Joan, Derry, NH
Significant Results
I was involved in a car accident and I was experiencing pain during strenuous exercise. I have noticed after chiropractic care that not only does my back feel better but I am in a better overall mood. And I no longer have any pain. I can tolerate the daily activities that I perform at work much better now and I am in a much more balanced emotional state.
I would recommend New Life Chiropractic because I noticed significant results after just one session.
– Kat, NH
Pregnancy Care
I always wanted natural childbirth. With huge support and preparation, sixteen hours of labor, two and a half hours of pushing, and increasing discomfort, I did it! But at the final push, just as my daughter was being born, I felt like bubble wrap was popping inside my pubic bones. When it was time to stand up, I could not move my legs.
The nurses called it exhaustion and lifted me to my new bed. The next morning I couldn't walk without significant pain and help. An X-ray showed diastasis of symphysis pubis (DSP,) an abnormal gap or misalignment between the pelvic bones. This rare injury creates severe pelvic pain consequently making it difficult to walk; little is known and there is no recognized treatment. My OB-GYN, an orthopedic surgeon, and a physical therapist all said, "Just give your body time and it will heal." After three weeks of using a walker the pain remained.
My mother said, "Go see a chiropractor." We found one who'd treated a similar condition. After six months of pelvic and lower back adjustments and a pelvic brace, I walked almost normally. A year later with additional adjustments I was 100 percent myself; the pain was gone and I could walk up and down stairs without problems.
Two years later I moved to NH with my husband and was pregnant again. I was scared to deliver another baby naturally — I could never go through DSP a second time. My new OB-GYN suggested we plan a C-section, but I wouldn't give up yet.
I was now over an hour from my servicing chiropractor, and feeling alone until I drove by a little sign, "New Life Chiropractic". I went in and met Dr. Beth. Without an appointment she listened to my story and concerns and expressed confidence that she could help. We established a weekly routine of adjustment/alignment to ensure my back and pelvis were in a healthy, flexible state for delivery. During my treatment, Dr. Beth and I grew close. Without hesitation she agreed to attend my delivery, to help coach me through healthy posture and provide adjustments if needed.
On a Thursday when I was a week late, after a week of false labor, my OB-GYN was concerned that the baby might be getting too large for my body. We decided to induce labor on the following Monday. I told Dr. Beth my fears of "inducement", the elevated contractions caused by Pitocin, and not being able to control the pain on my own. After a long conversation, words of encouragement and prayer, I calmly relinquished all concerns and fears.
That evening I went into full labor. By the time we decided to drive to the hospital, it was too late to call for aid. I was wheeled to delivery where the nurses delivered my daughter; not even my doctor made it in time. Soon after, I stood up and walked by myself to the rocking chair. I cried after realizing I had no pain or discomfort. I did not have DSP again.
My family jokes that due to Dr. Beth, my body was so straight and healthy that the baby just fell out.
I believe that chiropractic treatment is the only reason I am able to walk without permanent problems and had a healthy delivery of my daughter without serious medical intervention.?Thank you to Dr. Beth, and to the developing world of chiropractic care.
Amy C. – NH
---
New Life Chiropractic Reviews | (978) 374-1084